Deputy Minister Petrova received the new ambassadors of Chad, Ethiopia, Rwanda and Malaysia
12 May 2022
News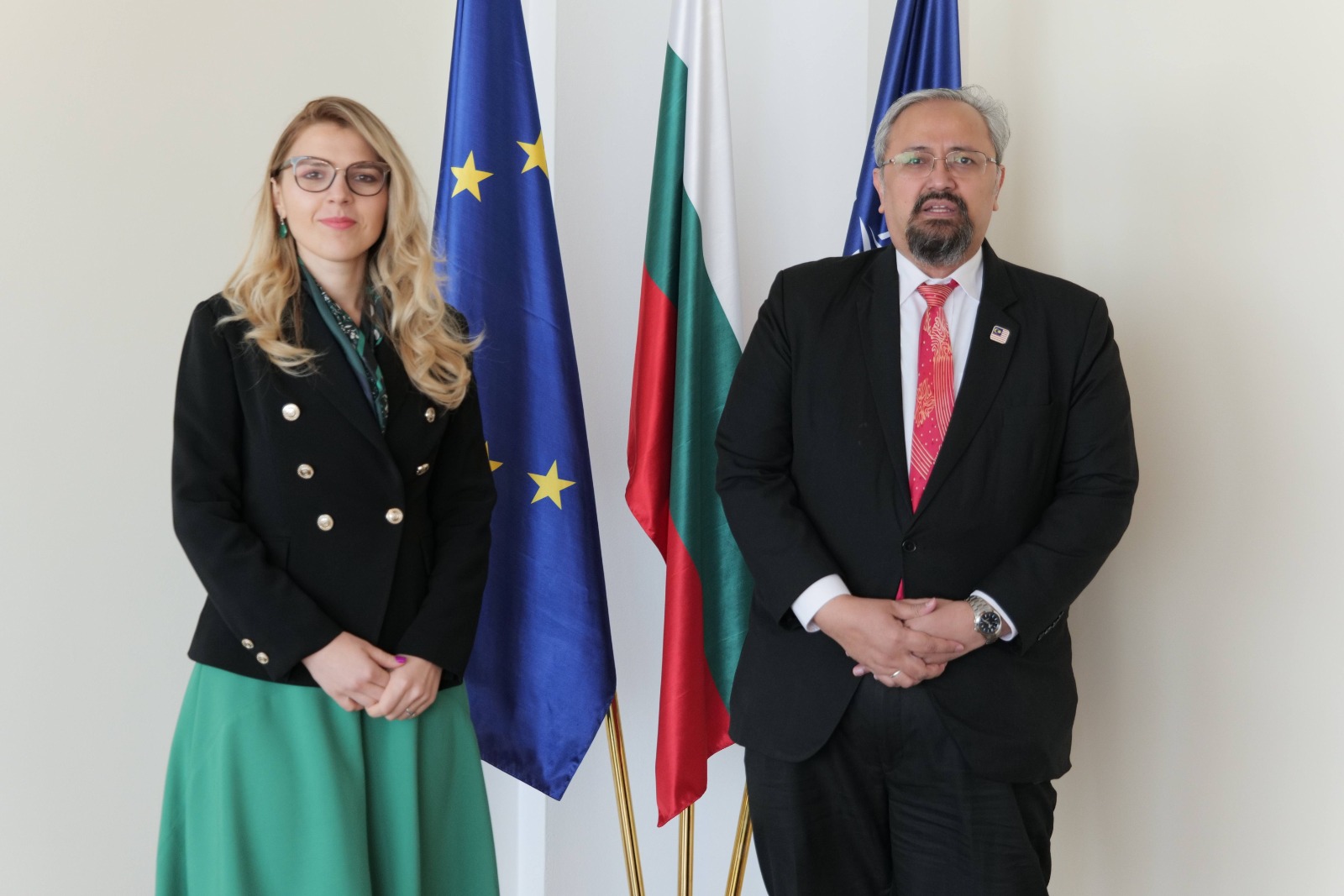 Deputy Foreign Minister Velislava Petrova received copies of the credentials of four newly appointed ambassadors - Chadian Ambassador Adum Dangai Nukur Gwet, Ethiopian Ambassador Adem Mohammed Mahmoud, Rwanda's Ambassador James Gatera and Malaysian Ambassador Shinjuku Tanjuto Thin Mohammed Arifin.
Deputy Minister Petrova received Ambassador Guet at the Ministry of Foreign Affairs, and during the conversation the two interlocutors discussed the intensification of bilateral relations and cooperation in areas of mutual interest. "We would like to revive and intensify our contacts and relations with the countries of sub-Saharan Africa, with which we have had extremely intensive and mutually beneficial cooperation in the past", Velislava Petrova said. She added that it is necessary for our country to continue its joint efforts to develop a modern legal basis for bilateral relations between Bulgaria and Chad by initiating and negotiating draft agreements by the line ministries of the two countries.
During their meeting with Ambassador Adem Mohammed Mahmoud, the two sides agreed that the traditionally good relations between Bulgaria and Ethiopia could be deepened, one way of doing so being the development of an effective exchange of information, especially with regard to both countries auctions, fairs, trade and tourism exhibitions. The Bulgarian Deputy Minister of Foreign Affairs stressed that there is significant potential for bilateral cooperation in the field of education and culture, given the quality education offered by our universities. "We are aware that many students from your country have studied in Bulgaria in the past", she said.
At the beginning of the meeting with the Ambassador of Rwanda, Deputy Minister Velislava Petrova noted the importance of the meeting of the President of the Republic of Bulgaria Rumen Radev with the President of Rwanda Paul Kagame, held in the framework of bilateral contacts during the VI EU-Africa Summit (14 -17.02.2022, Brussels), where new opportunities for intensifying cooperation between Bulgaria and Rwanda were discussed. She said that she personally insisted on organizing this meeting.
"We highly appreciate the friendly relations between Bulgaria and Malaysia and we are ready to strengthen the political dialogue at all levels", said Deputy Minister Petrova during her meeting with Ambassador Tanku Dato' Sirajuzaman bin Tanku Mohamed Arifin. She said the Bulgarian side considers dialogue between the foreign ministries to be an important part of bilateral co-operation. "We must also encourage stronger ties in the trade and economic sphere in order to expand and balance bilateral trade", Deputy Minister Petrova said. She added that there was great potential for further strengthening the co-operation between the two countries in all areas of mutual interest, including trade and economy, connectivity, education and culture, as well as enhanced political dialogue on issues of global and regional interest.