Ambassador Maria Tsotsorkova presented her credentials to the President of Zambia
11 May 2022
News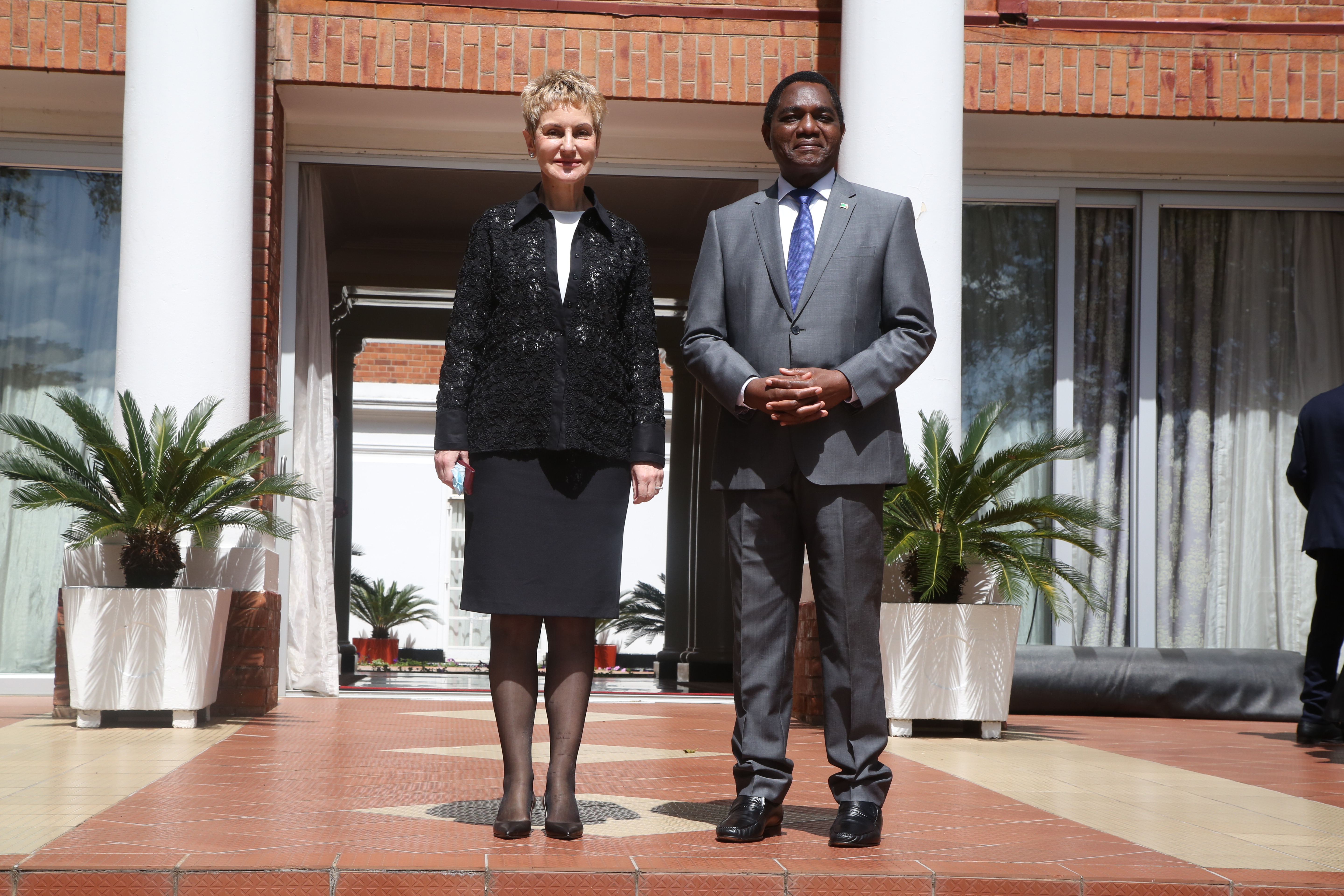 Ambassador Maria P. Tsotsorkova presented her credentials to the President of the Republic of Zambia Hakainde Hichilema at a ceremony held on May 5, 2022 in the presidency in Lusaka.
During the ceremony, Ambassador Tsotsorkova highlighted the traditionally friendly relations between Bulgaria and Zambia, which are imbued with a spirit of mutual sympathy and respect. The Bulgarian diplomat noted that the long-standing ties and the established understanding between the two nations are a good basis for intensifying political dialogue and trade and economic cooperation, for which there is significant potential. It was stressed that Bulgaria supports the Zambian government's reform agenda and its priorities for consolidating democracy, the rule of law and the protection of human rights. Full support was expressed for EU projects and initiatives in Zambia to achieve sustainable development, increase employment and improve living conditions.
During the meetings of Ambassador Tsotsorkova with the Minister of Foreign Affairs Stanley Kakubo and with officials in the Ministries of Agriculture, Education and Defense, the possibilities for deepening the bilateral cooperation in the sectoral areas of mutual interest were discussed. The Zambian side expressed readiness to participate in joint projects in the field of agriculture, education and research. The Bulgarian side praised the role of Zambia as a politically stable and democratic country, which is an important partner of Bulgaria in the South African region. During the meetings, Ambassador Tsotsorkova raised the issue of including Bulgaria in the Kaza UniVisa program, which will provide an opportunity for Bulgarian citizens traveling for business and tourism to obtain a common visa at the border of Zimbabwe and Zambia. The Zambian side shared the understanding that the facilitated travel of Bulgarian citizens will encourage contacts between the people of the two countries and will contribute to the sustainable development and growth of the tourism sector in Zambia.