EU Foreign Ministers' meeting in Brussels
13 December 2021
News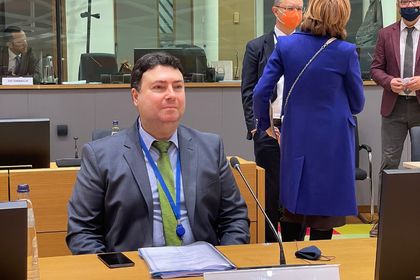 The last regular meeting of the Foreign Affairs Council for 2021 took place today in Brussels. The Bulgarian delegation was led by the Permanent Representative of our country to the EU, Ambassador Rumen Alexandrov. The main topics on the agenda were EU-Africa relations, the partnership with the countries of Central Asia and the situation in Venezuela. The foreign ministers also discussed a wide range of topical issues, such as the situation in Ukraine, Belarus and Ethiopia, as well as Turkey's actions in Varos.
"Bulgaria is deeply concerned about the escalation of tensions in and around Ukraine. We call for keeping the issue high on the EU's agenda and monitoring the situation. The EU needs to reaffirm its support and solidarity with Ukraine", Ambassador Alexandrov said in his speech.
The Council discussed EU-Africa relations in view of the forthcoming February 2022 Summit. EU foreign ministers reaffirmed the strategic nature of the EU - Africa partnership and its key role in tackling regional security challenges, as well as promoting socio-economic development and respect for human rights in Africa. The topic of providing the required number of vaccines against COVID-19 is also relevant.
EU foreign ministers reaffirmed the geostrategic importance of Central Asia, highlighting opportunities to strengthen EU relations with countries in the region in a number of areas such as politics and security, economics, human rights and the rule of law. They agreed on the need to strengthen co-operation in the context of the EU's Global Gateway strategy launched in early December. Ministers also highlighted the role of countries in the region in the context of the Afghanistan crisis and security challenges. "Bulgaria encourages closer EU cooperation with Central Asian countries to strengthen security and stability in the region. We attach particular importance to the increased focus on counter fighting terrorism and violent extremism, as well as the fight against trafficking in human beings, drugs and weapons. Bulgaria highlights the added value of the new Global Gateway initiative to promote connectivity between Europe and Central Asia across the Black and Caspian Seas", Ambassador Rumen Alexandrov said in a speech on the subject.
Special guest of the Council was the Minister of Foreign Affairs of Qatar Sheikh Muhammad Abdurrahman Al Thani. He briefed his European counterparts on recent developments in Afghanistan and Doha's efforts to mediate between the Kabul regime and the international community to provide humanitarian assistance.
The Permanent Representative of the Republic of Bulgaria to the EU Ambassador Rumen Alexandrov participated in a working meeting organized by the Minister of Foreign Affairs of Belgium Sophie Wilmes with the Executive Director of the International Energy Agency Fatih Birol. The main topic of conversation was the high prices of energy resources and climate challenges.