Minister Svetlan Stoev received the Ambassador of Republic of Turkey Aylin Sekizkök
30 September 2021
News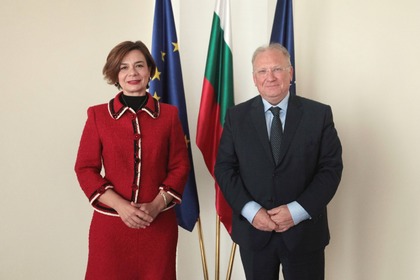 The Minister of Foreign Affairs Svetlan Stoev received the Ambassador of Republic of Turkey in Sofia Aylin Sekizkök. Highlights included traditional good neighbourly relations and co-operation in the areas of migration and border security, as well as in other areas of mutual interest.
"Turkey is our country's immediate neighbour, an ally in NATO and an important partner. Even during the pandemic, we continue to maintain bilateral political dialogue at various levels," said Minister Stoev.
Regarding the situation at the border and the permeability of the border checkpoints, Minister Stoev stressed that the competent Bulgarian institutions are in close coordination to find mutually acceptable solutions to facilitate traffic through the border checkpoints.
In addition, the Minister of Foreign Affairs expressed hope for assistance from the Turkish authorities in holding the vote on the territory of Republic of Turkey for the elections of Parliament, President and Vice President of Republic of Bulgaria, scheduled for 14th November 2021.