Ambassador Yordanov Presents Letters for Appointment as Bulgaria's Representative at the Economic Community of West African States
01 October 2021
News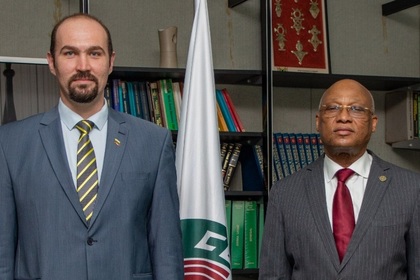 At a ceremony on 30th September 2021 in Abuja, Ambassador Yanko Yordanov presented to the Chairman of the Commission of the Economic Community of West African States (ECOWAS) Jean-Claude Cassie Brue letters with which he was appointed Representative of Republic of Bulgaria to the Organization.
During the ceremony, Ambassador Yordanov reaffirmed Bulgaria's desire to develop multidisciplinary cooperation with the countries of West Africa and with ECOWAS as a key subregional organization in the overall architecture of peace, security and economic development in Africa.
ECOWAS Commission Chairman Jean-Claude Cassie Brue welcomed Bulgaria's active approach and specific initiatives to develop relations with countries in West Africa and reaffirmed ECOWAS's readiness to assist in the further development of these initiatives throughout the region.