The road to the European Union includes solving problems in relations with neighbours
31 October 2012
News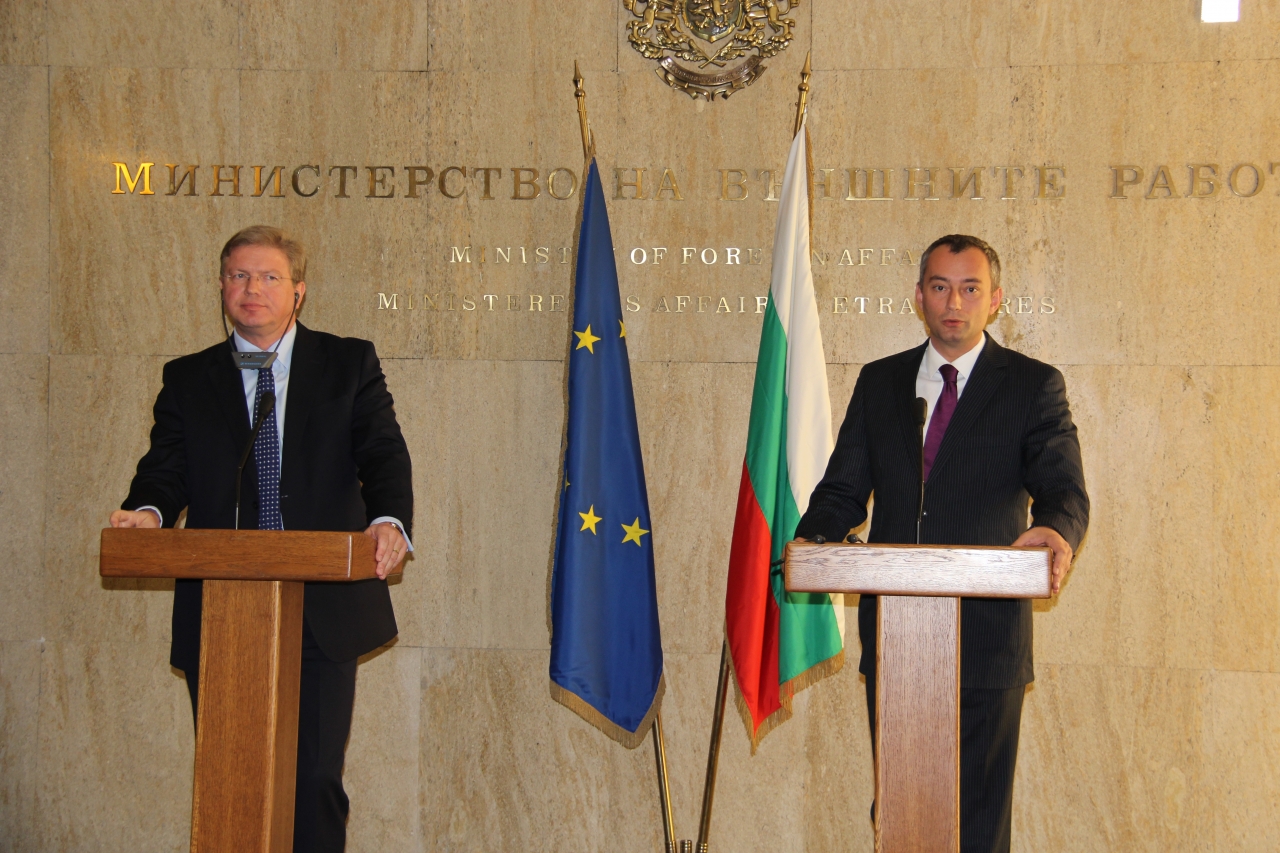 "When we were an EU candidate country, we gradually resolved key issues in relations with our neighbours that had been a burden for years. We are certain that the way that our neighbours in the Balkans, including Macedonia, must walk involves solving this kind of issues and identifying measures that improve trust between countries," Foreign Minister Nickolay Mladenov said today at a joint news conference with European Enlargement and Neighbourhood Policy Commissioner Štefan Füle, who is visiting Sofia.

Commissioner Füle has the full support of Bulgaria in his work, because as a country that most recently joined the EU, Bulgaria has best seen the benefits of membership.

"We stand for the idea that Europe should be expanded here on the Balkans. This is part of a major project to return peace and prosperity to our continent," Minister Mladenov said.

He said that he firmly believed that co-operation between Bulgaria and the EC Enlargement Directorate-General should increase so that the views of Bulgarian society could be appropriately reflected in the European Commission's initiatives.

Commissioner Füle said that Bulgaria has a key role in expansion, thanks to the country's successful experience in transition and its geographical location. "Today I came to see how this potential can be fully implemented in the enlargement," Commissioner Füle said, adding that Bulgaria provides an important example for all countries in the region that want to become part of Euro-Atlantic structures.

He said that all the issues between Bulgaria and Macedonia could be solved on the basis of European values.

"We need to break away from the past, because accession negotiations foster a very favourable climate for the development and strengthening of good neighbourly relations, Commissioner Füle said.

Minister Mladenov expressed hope that by the end of the year a plan would be drafted and co-ordinated to "show the Bulgarian, Macedonian and European societies that our two countries are able to assist each other on Macedonia's road to the EU in the same way that we have already done for 20 years".