A Parting Meeting between Minister Zaharieva and the Ambassador of the Sudan to Bulgaria
15 August 2018
News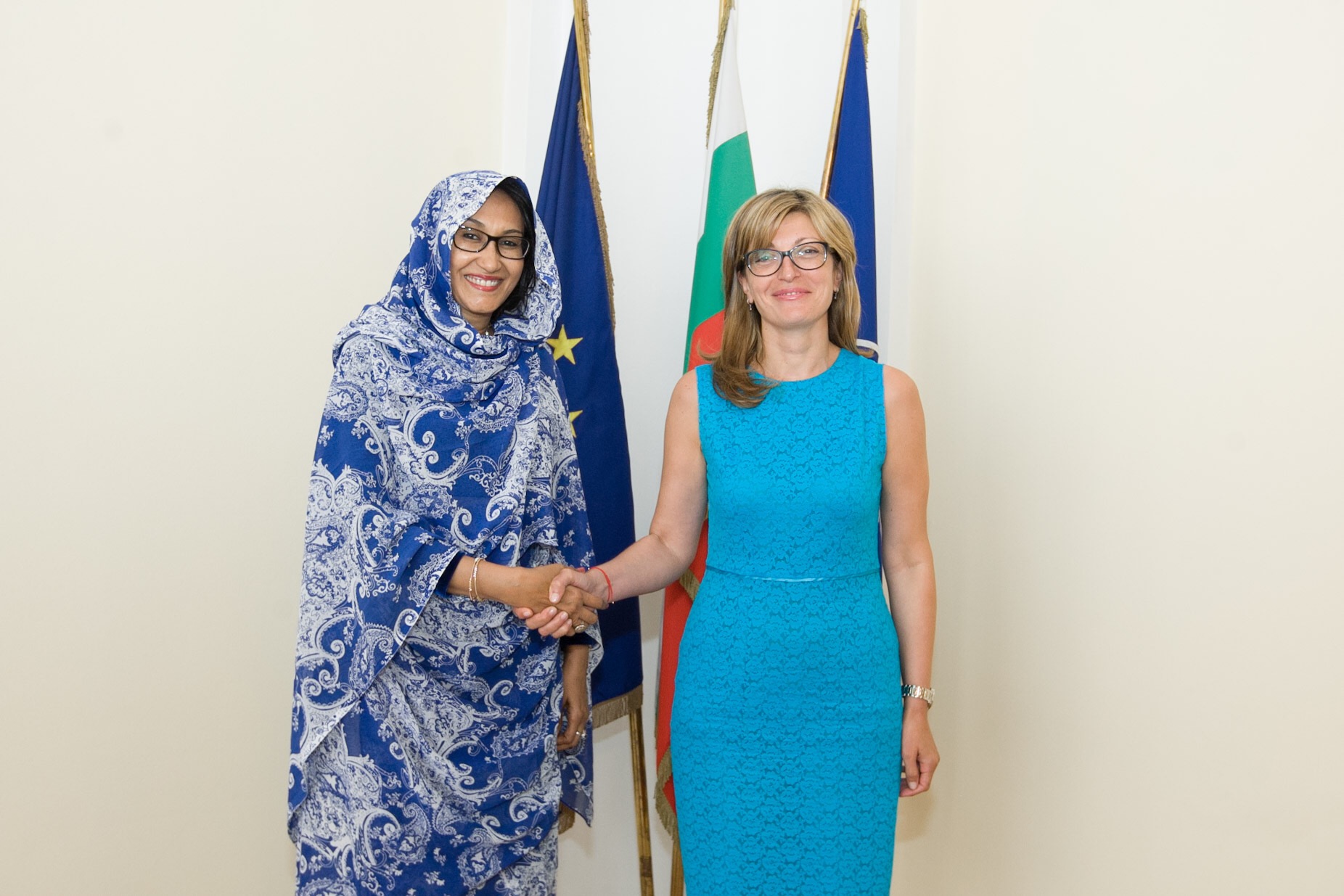 Today, Deputy Prime Minister and Minister of Foreign Affairs Ekaterina Zaharieva hosted a meeting with the Ambassador Extraordinary and Plenipotentiary of the Republic of the Sudan, Ilham Ibrahim Mohamed Ahmed, on the occasion of the ending of her diplomatic term in Bulgaria.
Bulgaria's highest-ranking diplomat praised Ambassador Ahmed's great activity, personal contribution and professionalism, which have all added to strengthening and enriching the bilateral relations between Bulgaria and the Sudan. 'Indeed, you have done outstanding work, and have gone to a lot of effort to rebuild and implement significant steps fostering the ties between Bulgaria and the Sudan,' Minister Zaharieva stated. She expressed her regret over the fact that Ambassador Ahmed's final departure coincided with the Sudanese government's decision to temporarily suspend the activities of its embassies in a number of countries, Bulgaria included, due to economic considerations. 'This decision comes at a time of an advancement of our relations unseen in recent years, and I sincerely hope that said decision would be reconsidered as there is still a lot more we can do to strengthen the cooperation between our two countries,' Minister Zaharieva said. The Deputy Prime Minister highlighted that, as part of its efforts in that respect, Bulgaria was seriously considering the possibility of accrediting an advisor on commercial and economic matters to Khartoum as a first step in re-initiating the activities of its diplomatic representation there.
For her part, Ambassador Ahmed assured her that the Sudan was also considering taking action to minimise the negative impact of the country's decision to suspend the activities of its diplomatic representation in Sofia. She also expressed her full conviction that the beneficial relations in all spheres of mutual interest built during her term would not be affected by the decision, and that all commitments made towards developing and strengthening bilateral cooperation would be fulfilled consistently. She personally thanked the Minister of Foreign Affairs of Bulgaria and her team for the excellent cooperation during her term in Bulgaria. 'I leave your country full of wonderful memories. My doors are always open to you no matter whether you are in Bulgaria or elsewhere,' Ambassador Ahmed said. She went on to share that, after the historic 2017 visit of the Minister of Foreign Affairs of the Sudan to Sofia, interest in Bulgaria in the African country had grown considerably both with regard to the educational opportunities in Bulgaria and to the spheres of tourism and business.
The two countries united around the belief that it was necessary to maintain the intensity of the high-level political dialogue launched a year before by exchanging visits and meetings, including a visit, in turn, by Minister Zaharieva to the Sudan in the near future.
More photos