Deputy Minister Georgiev opened the Cultural Diplomacy - Balkan Dialogue exhibition at the State Cultural Institute at the Ministry of Foreign Affairs
18 May 2022
News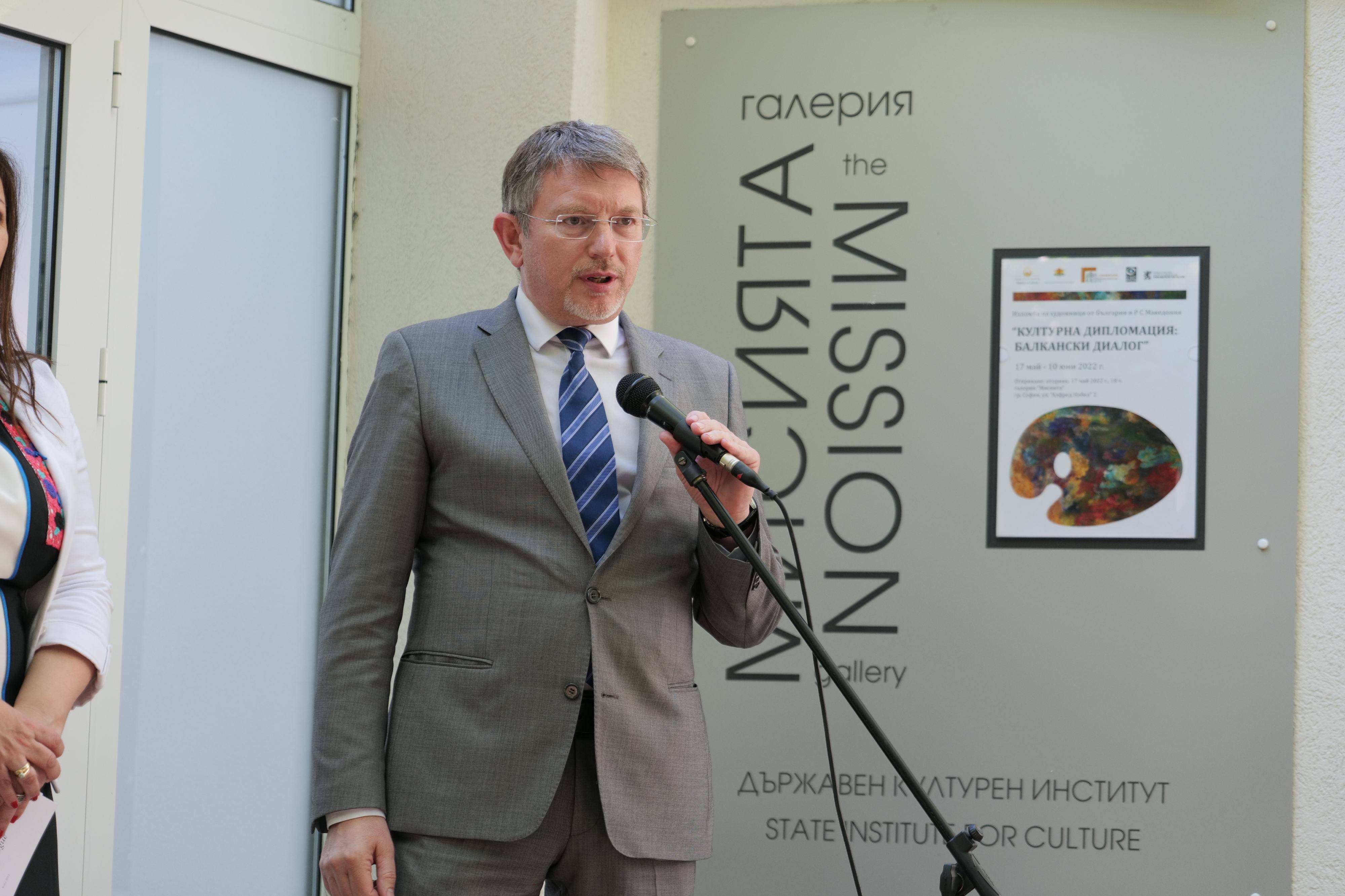 The Deputy Minister of Foreign Affairs Vasil Georgiev opened the collector's exhibition Cultural Diplomacy - Balkan Dialogue in the "Mission gallery of the State Cultural Institute. The exposition is visiting the Republic of North Macedonia in Sofia on the occasion of the 21st of May - World Day for Cultural Diversity for Dialogue and Development of UNESCO.
In his greeting, Deputy Minister Georgiev thanked the organizers and guests from the Republic of North Macedonia, saying that such projects show in practice how art and culture connect us and lead to a fruitful creative dialogue.
Seven Bulgarian artists took part in the exhibition: Svetlin Rusev, Stanislav Pamukchiev, Ivaylo Mirchev, Lyuben Genov, Dimitar Cholakov, Milko Bozhkov and Roman Kisov, and seven artists from the Republic of North Macedonia: Vladimir Georgievski, Pavle Kuzmanoski, Dimitar Geliskanov-Dimeta , Petar Popchev, Nikola Ivanov - Balton and Reshet Ameti.
Curator of the exhibition was the collector from Skopje Klime Korobar, and the organizers were the State Cultural Institute under the Minister of Foreign Affairs, Cultural Association DOBREDOJDE (Macedonia Welcome Centre), Cultural Association IKON, the Bulgarian Cultural Information Center in Skopje and Culture Republic of North Macedonia in Sofia. Media partner was the Bulgarian Telegraph Agency.
The director of the State Cultural Institute Snezhana Yoveva noted to the guests of the event the importance of such projects, which are becoming a bridge between cultures and peoples.
The exhibition can be viewed from May 18 to June 10, 2022 at the Mission Gallery.
More photos