Milena Ivanova presented her credentials as Ambassador Extraordinary and Plenipotentiary of Bulgaria to Belize
16 December 2021
News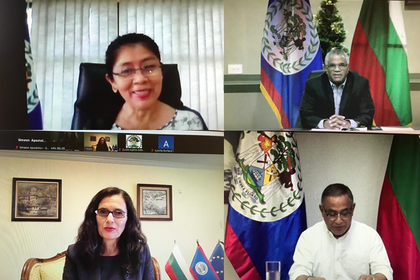 Our Ambassador to Mexico Milena Ivanova presented her credentials as Ambassador Extraordinary and Plenipotentiary of Bulgaria to Belize to the Minister of Foreign Affairs, Foreign Trade and Immigration of Belize Eamon Courtney and Governor General Froel Tsalam via videoconference on December 13, 2021. Ambassador Ivanova also spoke with Prime Minister John Brisenho.
Milena Ivanova stressed the desire of the Bulgarian side to intensify bilateral cooperation and to promote contacts in the field of culture, business and tourism.
Belize emphasized the importance of tackling the effects of the pandemic and the need for joint action. Interest was expressed in maintaining active contacts between the two countries, as well as hope for fruitful cooperation between the diplomatic missions of Bulgaria and Belize in Mexico.
The virtual ceremony of presenting credentials was introduced due to the coronavirus pandemic, and credentials are sent in advance in the prescribed manner.