The B9 countries exchanged views on European security issues
28 October 2021
News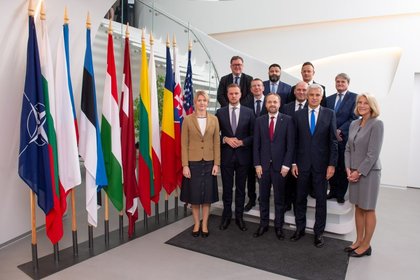 Deputy Foreign Minister Todor Churov took part in the B9 Foreign Ministers' Meeting in the Estonian capital Tallinn on 27th October 2021. The "Bucharest Nine" or B9 is a multilateral format for security consultations and dialogue involving 9 countries NATO Members - Bulgaria, Estonia, Latvia, Lithuania, Poland, Romania, Slovakia, Hungary, and the Czech Republic.
During the forum, the countries facing common challenges exchanged views and shared positions on a number of security issues, such as European security trends, including threats and challenges to regional security. The meeting also provided an opportunity to focus on the implementation of the Alliance's decisions under the NATO Transatlantic Agenda 2030, as well as to discuss issues related to the next NATO Strategic Concept.
During the meeting of the ministers of the B9 countries, Deputy Minister Churov held a bilateral meeting with Karen Donfried, US Assistant Secretary of State for European and Eurasian Affairs. During the conversation, issues on the agenda of bilateral relations were discussed, the importance of the strategic dialogue between Bulgaria and the United States was emphasized, as well as topics related to international and regional security and the European perspective of the countries of the Western Balkans.
Deputy Minister Churov also held a bilateral meeting with Kyllike Sillaste-Elling, Director General of the NATO and Transatlantic Relations Directorate at the Estonian Foreign Ministry. The two diplomats discussed the current security situation in the Euro-Atlantic area, as well as future challenges facing NATO allies.