Minister Svetlan Stoev received the Ambassador of Albania Donika Hoxha
27 October 2021
News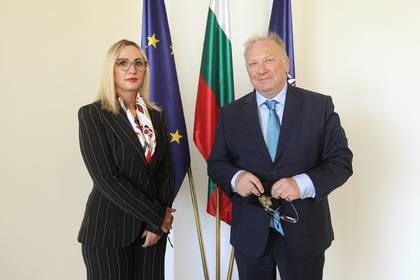 The Minister of Foreign Affairs Svetlan Stoev received the Ambassador of Albania Donika Hoxha. During the conversation, they discussed the excellent relations between the two countries, the active political dialogue, the deepening of cooperation in many areas of mutual interest, and the potential areas for its development.
"Albania and Bulgaria are friendly countries and partners in NATO," said Minister Stoev, emphasizing that the intensive exchange, including in culture and tourism, will contribute even more to the rapprochement between the people. The opening of cultural and information centres in the two capitals would be an important step for this. Our Foreign Minister expressed hope that this would become a reality as soon as possible.
The meeting also noted the growing mutual interest in the field of tourism, as according to the Albanian side in 2019, 45,000 Bulgarians visited Albania. Ambassador Hoxha said that her country is also interested in intensifying ties between higher education institutions, including opportunities to open branches of Bulgarian universities. This would also benefit the Bulgarian minority in Albania.
During the conversation, the Memorandum for accelerating the construction of Corridor 8, signed a few days ago in Sofia by Bulgaria, Albania and the Republic of Northern Macedonia, was welcomed, and Minister Stoev stressed that its completion will be extremely important for connectivity in the region.
The Bulgarian side also emphasized the consistent support of Bulgaria for the European perspective of the countries of the Western Balkans, as for us what is leading in the process of accession to the EU continues to be the principle of own merits of each candidate country.
"In our face, Albania has a friend on the road to the EU. You can count on our support," said Minister Stoev.
Tirana's progress on the path to the EU was emphasized, as our country does not rule out the possibility of separating Albania and Republic of Northern Macedonia in the negotiation process.