Bulgaria has made four national commitments to step up the fight against anti-Semitism
13 October 2021
News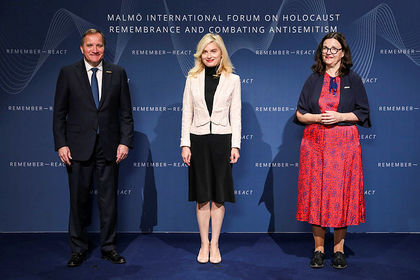 Deputy Minister Zaritsa Dinkova participated in the High-Level International Conference on Holocaust Remembrance and the Fight against Anti-Semitism on 13th October 2021 in Malmö, Sweden.
"Preserving the memory of the victims of the Holocaust is becoming an increasingly urgent task as time goes on, as the last survivors are leaving us," said Zaritsa Dinkova in her speech. According to her, the remembrance not only preserves the memory and pays tribute to the many human beings who died a horrible death, but also helps to be vigilant about the dangers of hatred, racism, discrimination, intolerance and prejudice that occur around the world.
The "Remember and Act" forum, hosted by Swedish Prime Minister Stefan Löfven and Swedish Education Minister Anna Ekström, brought together world leaders, Holocaust survivors and civil society activists to discuss particular steps in the field of remembrance, education, the fight against anti-Semitism in social networks, as well as in all other spheres of life.
The Malmö conference marked the 75th anniversary of the end of World War II and the 20th anniversary of the Stockholm International Holocaust Forum and the founding of the International Holocaust Remembrance Alliance.
With the participation of Deputy Minister Dinkova in the conference, as well as with the undertaking of specific commitments, Bulgaria has once again reaffirmed its firm determination to fight anti-Semitism and preserve the memory of those killed in the Holocaust.
Bulgaria has made four national commitments to step up the fight against anti-Semitism. Our country will turn the position of the national coordinator for combating anti-Semitism into a permanent one, will expand the application of the working definition of anti-Semitism, will study the possibility of creating a permanent exhibition dedicated to saving Bulgarian Jews and will prepare a draft National Plan for Combating Anti-Semitism. In her speech, the Deputy Minister of Foreign Affairs of Bulgaria highlighted the role of education and research, emphasizing the fight against the distortion of the Holocaust, the selective presentation of facts and their manipulation.
In confirmation of the highly valued role of our country in the fight against anti-Semitism was a short but emotional meeting of Deputy Minister Dinkova on the sidelines of the forum with the family of Dina and Jovan Rayas. The two Jews of Serbian descent, who themselves experienced the horrors of the Holocaust, now live in Sweden and are committed to fighting anti-Semitism by lecturing, writing books and even as authors of a play. In front of Deputy Minister Dinkova, the Rayas family expressed sincere and unadulterated gratitude to Bulgaria for the role of our country and the Bulgarian people in saving 48 000 Jews during the Second World War.
Deputy Foreign Minister Zaritsa Dinkova stressed the importance of preserving the memory of the tragic events of the Holocaust, which is essential for the effective fight against modern forms of anti-Semitism.