Increased pace of Bulgarian participation in the 77th session of the UN General Assembly
21 September 2022
News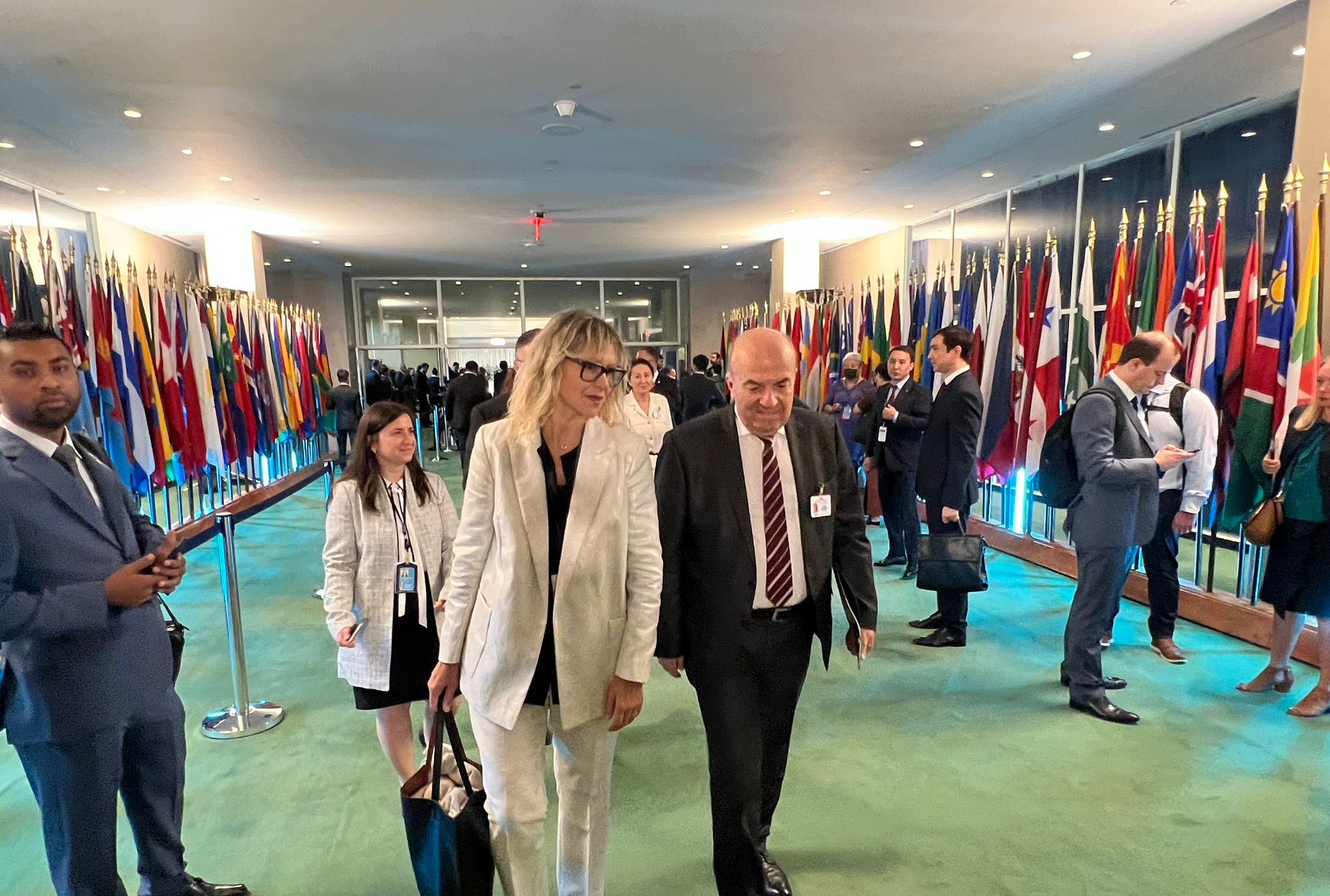 On September 20 of this year Minister of Foreign Affairs Nikolay Milkov and the delegation led by him took part in the official opening of the General Debate at the 77th session of the UN General Assembly in New York. The session was opened by UN Secretary-General Antonio Guterres, whose welcome focused on the war in Ukraine, the global energy crisis, nuclear security, climate change and a number of other global and regional issues.
Last night, Minister Milkov participated in a meeting of foreign ministers of the B9 countries (nine NATO member states: Bulgaria, Estonia, Latvia, Lithuania, Poland, Romania, Slovakia, Hungary and the Czech Republic), hosted by the USA. It discussed global threats to Euro-Atlantic security, strengthening the Alliance's deterrence and defense in response to Russian military aggression against Ukraine, deepening of the transatlantic dialogue and the growing challenges from China.
Minister Milkov held a number of planned bilateral meetings on the sidelines of the UN General Assembly. He held a conversation with Karen Donfried, US Assistant Secretary of State for Europe and Eurasia, with whom they discussed bilateral relations and the prospects for deepening the strategic dialogue between Bulgaria and the US. Opinions were exchanged on issues of international and regional security, as well as the attraction of new American investments in key sectors of the Bulgarian economy.
There was also a meeting with the Minister of Foreign Affairs of Turkey, Mevlüt Çavuşoğlu. The two expressed satisfaction with the excellent high-level dialogue, being a prerequisite for realizing the potential between the two countries. The first diplomats agreed that in the current geopolitical context, closer cooperation in the fields of energy and security is necessary. In this context, the visit of the President of the Republic of Bulgaria, Mr. Rumen Radev, to Turkey was confirmed.
Regional cooperation, bilateral relations and the European perspective of Kosovo and the Western Balkans were the focus of the meeting between the first Bulgarian diplomat and his counterpart from Pristina, Donika Gervala. Minister Milkov confirmed Bulgarian support for the European integration of Kosovo and its establishment as a democratic and multi-ethnic state, incl. on the international stage. He welcomed the efforts of the Kosovo government to accelerate reforms.
Minister Nikolay Milkov also met with the Minister of Foreign Affairs of the Democratic and People's Republic of Algeria, Ramtan Lamamra. In the context of the 60th anniversary of the establishment of our diplomatic relations, the two discussed the possibilities for deepening political dialogue and developing economic cooperation, especially in the fields of energy and security.