Minister Svetlan Stoev received the British Ambassador Rob Dixon
25 October 2021
News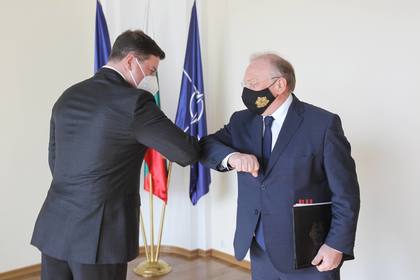 The Minister of Foreign Affairs Svetlan Stoev received the Ambassador of the United Kingdom Rob Dixon. During the conversation, the active political dialogue between the two countries was noted, as well as the good cooperation in the field of foreign policy, security and defence, migration, the fight against terrorism, cyber and hybrid threats.
"Great Britain is an important ally of Bulgaria in NATO. We highly appreciate this partnership, especially in the context of security in the Black Sea region," said Minister Stoev.
Among the highlights of the meeting were post-Brexit relations, both bilaterally and at EU-UK level, including the implementation of the Northern Ireland Protocol and fishing licenses.
The Bulgarian side stressed the need to settle many bilateral issues after Britain's exit from the EU, including in the social sphere. The British side expressed its readiness to take recent steps in this regard.
More than 300,000 Bulgarian citizens permanently reside in Great Britain, and according to the British Embassy in Sofia, the British citizens with permanent residence in Bulgaria are 12 000.
An important topic in the conversation was the future relations in the field of education. Universities in the UK are among the most preferred by Bulgarian students, and currently there are about 6,500 of our compatriots. According to the British side, Bulgarian universities have been chosen by over 3,500 British young people for their education, mainly in the field of medicine.
Ambassador Dixon expressed hope that the interest of Bulgarian students in higher education in the UK will be maintained. He said that there is ongoing work on joint projects between Bulgarian and British universities.
The possibilities for deepening cooperation in the field of tourism were also discussed at the meeting, despite the difficulties in the sector caused by the pandemic of COVID-19.
"Tourism is the most direct way to intensify contacts between people, and hence - the cooperation in many areas," said Minister Stoev, adding that our country offers excellent conditions for the upcoming ski season.
Topics on the international agenda were also discussed, including priority issues from the forthcoming Conference of the Parties to the United Nations Framework Convention on Climate Change COP-26 in Glasgow, UK.