EU General Affairs Council meeting in Luxembourg
19 October 2021
News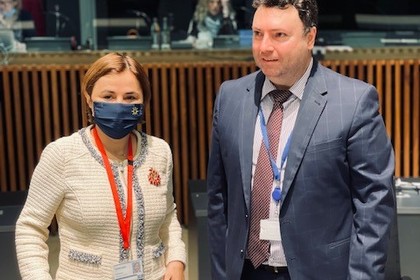 Bulgaria's Permanent Representative to the EU, Ambassador Rumen Aleksandrov, is taking part today in the regular meeting of the General Affairs Council in Luxembourg. The Council prepared the work of the forthcoming European Council meeting on 21st -22nd October 2021, discussed the work of the Conference on the Future of Europe, and held a discussion on the Annual Dialogue on the Rule of Law.
The General Affairs Council discussed the draft European Council conclusions, which included COVID-19, digitalisation, energy prices, migration and external relationships.
An important topic in the discussion within the Council was the increased prices of energy resources. On 13th October 2021, the EC presented its proposals to tackle rising energy prices, offering Member States a package of actions and measures to support citizens and businesses from the effects of ever-rising energy prices in the EU. The Bulgarian Permanent Representative welcomed the focus on the protection of low-income households and small and medium-sized enterprises and called for measures to address the speculative purchase of energy trading quotas. Rumen Aleksandrov called for recognition of the role of nuclear energy and natural gas in the process of "green" transition. Ensuring technological neutrality and social tolerance in the transition is particularly important for an inclusive and socially just transition where no one is left behind.
On the topic of migration, Bulgaria expressed support for cooperation with countries of origin and transit of migrants in order to establish control over migration flows. He also stressed the need to strengthen the EU's external border and provide adequate resources for this.
The Slovenian Presidency of the Council of the EU informed about the activities of the Conference on the Future of Europe. The next plenary session of the Conference is scheduled for 22-23 October 2021. European Citizens' Panels have already been formed with the participation of 800 randomly selected citizens. Nine working groups have been set up on the topics identified in the digital platform. Their role will be to discuss the recommendations of the national and European citizens' panels with a view to preparing for the plenary session. The countries of the Western Balkans as stakeholders will be given the opportunity to take part. The Bulgarian Permanent Representative informed about the main results of the civil dialogue on democracy and demographic development, held on 12th October 2021 in Sofia as an event within the Conference on the Future of Europe.
The Council discussed the second annual report on the rule of law in the EU. The mechanism provides an opportunity for a constructive exchange of experience and best practices based on an assessment of the same parameters for all Member States. Member States emphasized the importance of the rule of law as a fundamental value of the Union.