Deputy Minister Vasil Georgiev participated in a Trilateral Meeting Greece-Bulgaria-Romania in Athens
16 May 2022
News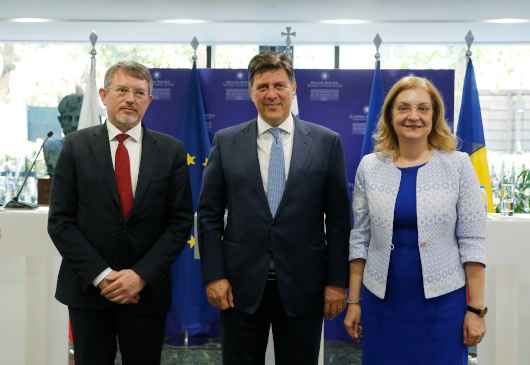 On May 12, 2022, Deputy Minister of Foreign Affairs Vasil Georgiev took part in a Trilateral Meeting of the Ministers of European Affairs of Bulgaria, Greece and Romania held in Athens on the initiative of the Alternate Minister of Foreign Affairs of Greece Miltiadis Varvitsiotis. Romania was represented by the State Secretary for European Affairs Daniela Grigore Gitman.
The discussions were focused on the war in Ukraine, the energy crisis, the European perspective of the Western Balkans, as well as the situation in the Eastern Mediterranean. The challenges arising from migration were discussed as well.
At the heart of the meeting was the mutually complementary role of Bulgaria, Greece and Romania in improving infrastructure connectivity and energy diversification in the region.
The participants agreed to continue the trilateral format of cooperation. At the invitation of the Bulgarian side, the next meeting will be held in Bulgaria in the autumn of 2022.